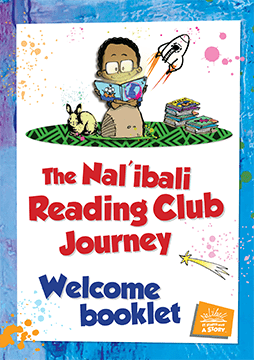 Over the last three years, Nal'ibali's reading club network grew more than fourfold, from 1,271 clubs in 2016 to 5,220 clubs in 2019.
In 2018, we learned that resourcing in Nal'ibali reading clubs was varied, and often inadequate: only two in five clubs received our bilingual reading materials (Nal'ibali supplements), and 16% did not have any of their own reading materials. We also learned that reading club leaders wanted more personal contact with Nal'ibali to sustain motivation. And through the lens of behavioural science, we identified the need to make progress more visible, both within reading clubs (so children can see their own progress and adults can see the impact they are having) and within communities (using public signalling to establish new social norms).
In 2019, we set out to better support our network of 5,220 reading clubs by creating a more structured "journey" that:
Takes a child-centred approach, and puts children's journey to becoming readers at the heart of our planning;

Includes mechanisms for children and adults to their progress (individually) and compare it to others;

Includes mechanisms for reading clubs to make their progress visible to others;

Regularly calls our reading club leaders to offer encouragement and support; and

Increases mentorship and support for reading club leaders.
We developed and piloted a Reading Club Journey Welcome Pack, which we sent to new reading clubs after sign-up. The pack provides resources to help clubs run engaging, effective sessions with children, including a welcome booklet of tips and ideas, a guide to running a reading club, a club progress tracker, posters, a branded flag, book bags for children, and 10 children's books in for the preferred language/s and age group/s. The pack is available in all 11 national languages.
The materials are supported by an automated 12-month SMS contact plan where the reading club leader will receive calendar-linked prompts (e.g. for World Read Aloud Day or Mandela Day) and motivational messages (e.g. tips for sustaining a reading club or choosing reading materials).
Reading club leaders also received two support calls in the year from our contact centre, to check in on how their clubs were going, make them aware of resources and offer advice and support.